So, I posted about a week ago, that I would be running my second half marathon. I have completed the race, and what a race it was. I did a little more research this race, and did some things differently then last time. I broke up the race into 3 smaller races, 5 miles, 5 miles, and a 5k. One of the other things I did was take more gel packets ( I used the Clif Gels). I think I took 3 during my first half marathon, during this one I took 1 before the race, and 4 during the race (about every 25-30 minutes). I started off at my normal pace and took it very easy the first 5 miles. I was a little worried for the next 5 miles as it was on a gravel trail, however to much my surprise, I had tons of energy and the trail had hardly any rocks, more of a dust trail and it felt awesome on my feet. I posted my splits below for 1 mile paces, but as you can see, around mile 7, I picked up the pace, and ran faster then I probably should have, but pulled some awesome times (Disclaimer my GPS is always a little off, and it stopped recording around mile 11). I finished the race with a Gun time of 2:17:18, chip time of 2:16:53 and pace of 10:28/M. A very successful run, my only worry is improving upon this for the next one! Pictures posted below!
1 1.0 mi 09:18
2 1.0 mi 09:52
3 1.0 mi 09:54
4 1.0 mi 10:40
5 1.0 mi 10:25
6 1.0 mi 10:17
7 1.0 mi 08:42
8 1.0 mi 07:55
9 1.0 mi 08:33
10 1.0 mi 08:53
11 1.0 mi 09:53
12 0.2 mi 10:15
*GPS stopped recording
Start of the race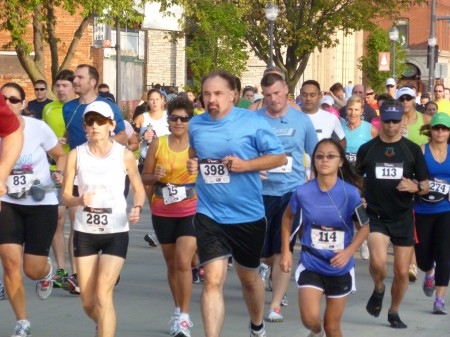 Mile 13

Right before the finish line.

Post Race